Reclaimed hardwood continues to capture the eye of many homeowners and creates a stunning floor. It may be hard to imagine that old exterior boards from a farmer's barn or a supporting joist for a roof in an old warehouse being transformed into a unique hardwood floor. However, reclaimed salvaged lumber can be crafted into a beautiful hardwood flooring that can preserve history for generations to come. Rustic and vintage flooring has become a popular style in all types of homes and decor. Here are some things to know about reclaimed hardwood flooring:
Process
Reclaimed wood is lumber that has been salvaged from weathered barn and old factories that are no longer in use and facing destruction. Rather than being ground up and placed in landfills or left to further decay, the lumber is recycled and transformed into a number of products, including reclaimed hardwood flooring. Once the salvaged boards are brought to the facility, there is a process to turn reclaimed wood into wide plank flooring. Due to the availability and labor put into making reclaimed hardwood flooring, it is typically more expensive than traditional hardwood floors. Our craftsmen make sure all metal is removed from each board to ensure that it's sustainable to be used as flooring and no damage can occur during milling and installation.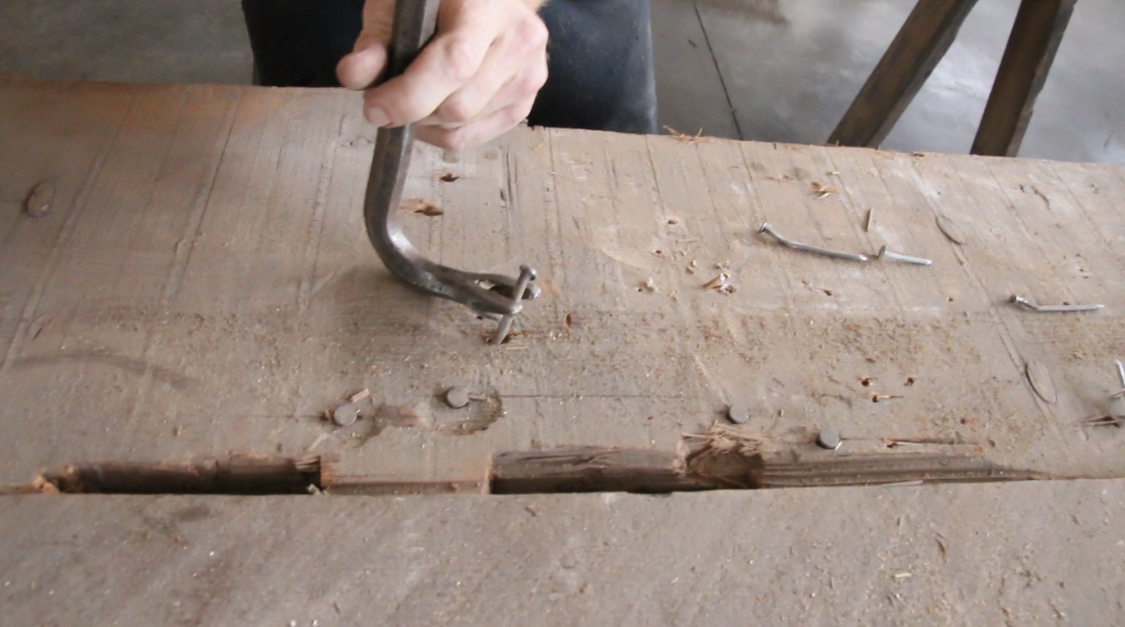 Style
Reclaimed hardwood flooring creates a look and feel that cannot be replicated with typical hardwood flooring made from new, virgin material. Reclaimed flooring has two options: Original Face or Milled Face. As stated with the name, Original Face shows saw marks, patina, and rougher appearance from wear of 40 to over 100 years. As for Milled Face, each board is milled to a smoother face showing less of the original markings or wear.
Green & Eco-friendly
By salvaging lumber from these buildings, you are giving old wood a chance at a new life and helping keep the old material out of landfills. As many homeowners strive to become more environmentally friendly, reclaimed wood products have become increasingly popular. The careful removal of this lumber from old buildings is done in an environmentally responsible way that preserves the characteristics of the land and fully recycles every portion of the building, including recycling the metal, stone and other materials used in construction. In preparation for reuse, the reclaimed material has all of the hardware removed including nails, screws and bolts, and this material is also recycled as scrap.
Old-Growth & Stability
When trees naturally reach their full maturity within an environment, it's known as "old-growth." These trees are typically stronger and larger because they took decades to possibly even centuries to mature. Over hundreds of years, wood becomes seasoned making it less likely to cup, twist or move significantly. The fibers in the wood become denser the more slowly the tree grows, making them very stable.
History
There's more of a story behind reclaimed boards, which makes them very unique. These boards can be sourced from various places like a historical bridge or a beautiful old barn. Since much of the salvaged wood dates back to times when construction was solely by hand, the material has a unique and different look. Many boards contain nail holes, mortise & tenon joints and the weathering from years of enduring Mother Nature. By using Peachey Reclaimed hardwood, you're continuing to keep the history alive for future generations.
One-of-a-kind
Reclaimed boards showcase various characteristics that cannot be reproduced with new flooring. We keep the natural character marks of: nail holes, worm holes, mortise & tenon joints and patina that is only possible with aging of wood over hundreds of years. These characteristics provide a rustic appeal that offers ageless distinction and beauty.
---
Reclaimed wood is rich with history and an environmentally friendly material. Peachey Hardwood Flooring transforms locally sourced wood into one-of-a-kind custom reclaimed hardwood floors. Contact our experts today for more information about our authentic Reclaimed flooring and view for yourself The Beauty of Nature. Perfected.