Hardwood flooring will show effects from direct sunlight over time. When moving a rug or piece of furniture after a long period of time, it may be noticeable that the covered part of the floor is a different shade than the surrounding wood. Color fading and deterioration in wood floors is a result of three sources: exposure to UV rays, heat, and moisture. This problem does not a have a single solution but there are options to help slow down the color fading process. Reducing incoming UV rays will not only reduce fading and sun damage to your floors but also to other contents of your home, including furniture and artwork.
What causes the color to change?
Depending on the species of hardwood flooring it will fade, bleach, or darken when exposed to the sun. Wood is photosensitive material so if there is overexposure to ultraviolet (UV) rays then there will be an effect on the color of the floors. It is said that about 40% of all interior fading happens from UV rays.
The wood itself is not the only component affected by discoloration, but also the finish can be as well from sunlight. The reaction of wood to UV exposure is similar in the way human skin reacts to the sun. Sun exposure causes different reactions to different skin types. Rays can cause people to tan faster or slower, while other skin types will burn quickly. Sun block, similar to protecting finish for wood, can play a part in minimizing reaction of the skin to the sun. However, like wood finish, over time sun block will wear off or break down. Ultimately, overexposure to harmful rays will cause damage and change of color.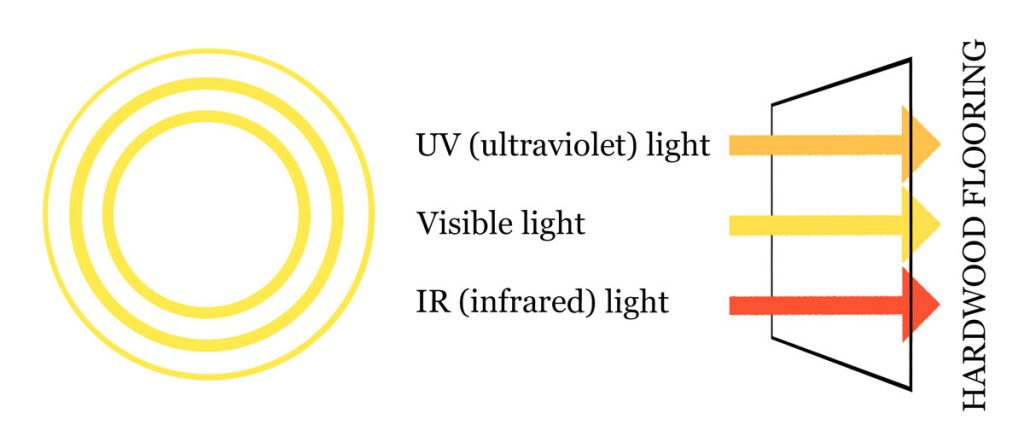 Options to Help Reduce Sunlight Damage:
There is no fix-all solution when it comes to sunrays fading hardwood floors but there are steps to minimize the amount of exposure. These steps will help slow down the process of color deterioration.
Rearrange Furniture and Rugs

Moving around furniture and rugs periodically will help balance the exposure of sunlight to the areas of the flooring that were previously covered. Equalizing the exposure of UV light will help keep the process of color fading to be consistent throughout the room.

Apply a Window Film

Applying a thin multilayer window film to the windows will drastically cut down on the UV light and glare coming through. These films are designed to allow visible light to shine through while filtering out types of light that can be damaging. Regular window glass only blocks about a quarter of the UV rays.
Along the same concept, window tints are another option. These are similar to films, however, tints change the way the windows look. Usually they have a pigment that makes the window look darker or some are even a mirror as films are clear.

Window Treatments

Drapes, curtains, shutter or blinds are the easy ways to keep the sunlight off your floor. Keep these closed so they act as a defense against UV rays on the side of the house where sunlight shines through and slow down the fading. If using horizontal blinds, there is no need to shut them completely but if angled positioned upwards will allow the sunlight to be directed towards the walls and ceiling.
Although with a little more investment, the best window treatments for keeping rays from beaming down onto the floor is motorized screens, shades and blinds. Motorized window treatments have settings and timers that can be made and it will automatically extend during the day when the sun is stronger.

Replace Windows with Low-E Glass

If windows are needing to be replaced, a good consideration is low-e glass windows. Low-e (low emissivity) glass reduces the amount of UV light that is allowing to shine through. This is another investment option but it helps protect and reduce deterioration of wood flooring. It also saves on energy by reducing the interior temperature during warmer months.

Awnings

Exterior awnings add coverage to stop harmful sunrays from reaching the window. They are available in retractable and stationary. Awnings can make a significant difference in protecting hardwood floors form overexposure to sunlight.
Flooring that is Already Faded
If the wood is already faded and any of the practices above were used and blending the areas together is not working, or the difference in color is too drastic, then the only option is to restore the hardwood flooring by sanding and refinishing.
In Conclusion
Fading of wood due to exposure to sunlight is an unavoidable outcome for wood floors, unless the room has no windows. There is no fix-all solution to avoid UV rays and sun exposure. The best solution is trying to delay the fading process with the options above. Minimizing and balancing the amount of damaging sunlight that reaches the wood floors will slow down the color changing process.